How to Build Your Own Sauna - Part One
The ultimate, of course, is to build your own sauna from scratch. Surprisingly, building your own sauna requires only basic carpentry skills.
Are you looking for information on the following?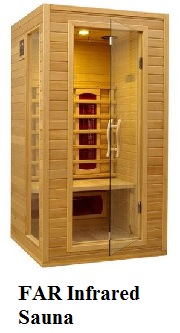 You would probably imagine that installing a sauna can be pretty complicated.

You might be wrong!

These days, you can actually buy pre-built saunas that can be installed in less than half an hour. Or, if you have some basic woodworking skills you can buy a kit and assemble it yourself. The ultimate challenge, of course, especially if you are a "guy", is to build your own sauna from scratch.

Good news! This is a project that can be undertaken and successfully completed by anybody possessing basic carpentry skills.

Pick the Location For Your New Sauna First

The most important consideration when building your own sauna is, as the realtors say, "location, location, location.

The final design of your sauna will depend a lot on whether it will located be in the city or the country, whether it will be a freestanding sauna, or be installed in an existing room. You will need to decide whether it will be inside the house or built as an exterior building.

Once this initial decision has been made, you will then have to decide what kind of stove you are going to use. You have a choice of electric, wood-burning, gas, or oil. If you're building your sauna in the countryside, a wood-burning stove would be the obvious choice. A city sauna, on the other hand, would be better off with an electric, gas or oil heater. Electric is the most popular choice for saunas in the city.

Finally you need to decide how to design the combination of washing and changing facilities. Ideally, there will be a shower just outside the sauna for people to wash before they enter the hot room. The shower will need hot water so your plumbing facilities will play a big part in deciding where to build the sauna.

Location Requirements and Expectations for Your Sauna

Ideally, the best location for a sauna would be in the countryside close to a lake or river so that you can jump in the water after a sauna. Next to a swimming pool would also be a good spot. If neither of these are possible, you should probably plan on having a shower installed next to the sauna.

Saunas that are built in the countryside are almost always a separate building from the house. If your sauna is going to be in the city it is more practical to install it inside the house. It should be close to a bathroom so that bathers can wash before the sauna and take a cold shower afterwards.

If you plan on converting an existing room into a sauna, you have to take into consideration the moisture that will be present from the sauna. The room will have to be insulated and have a vapor barrier to prevent moisture from damaging the structure of the house.

Sauna Heater

Most sauna enthusiasts agree that some sort of wood-burning sauna heater is going to provide the most satisfying sauna experience. If you think about it, this is probably the obvious choice for saunas in the countryside. If your sauna will be in the city, a wood-burning stove is probably not going to be practical, so the next best choice in this setting is an electric sauna heater. You could possibly also use a gas or oil heater, but, you should be aware that some people complain about the odor that these heaters give off when they are in use.

No matter which kind of heater you eventually decide on, it has to have the proper plumbing and electrical connections. This will probably mean hiring an electrician or plumber. Installing the connections is one of the first jobs that should be done when building your own sauna.

One way to avoid many of the problems mentioned above is to use a modern FAR Infrared Sauna.

In Building Your Own Sauna - Part Two, we will take a look at the actual construction methods.

Sitemap